Last month, special recognition to water-related issues was given on March 22, the date designated by the United Nations as "World Water Day." The first World Water Day was observed in 1993, and has been celebrated every year since. The purpose of the observance is to bring attention to our water resources and offer learning opportunities, as well as to inspire others to sustainably manage those resources. This year, the theme of World Water Day was wastewater, to focus on the need to improve water reuse.
We cover water treatment regularly in our magazine, and I have written about its importance a number of times, yet each time I learn more, it impresses upon me how far-reaching the impact of water-related issues is. The World Water Day website (www.worldwaterday.org) offers the following information in its "Fact Sheet."
The CPI contributes
Industrial production accounts for nearly 25% of global water consumption, according to a statement released in conjunction with World Water Day by Lanxess (www.lanxess.com). The chemical process industries (CPI) are well equipped to provide solutions to industrial, as well as municipal water- and wastewater-treatment challenges. Our engineers and scientists are very familiar with pertinent technologies, such as advanced filtration techniques (see the Feature Report in this issue on Crossflow Membrane Filtration, pp. 49–59). And new technologies are being developed around the world. See for example, the Chementator article in this issue about a group in Singapore who are working on removing pollutants from water with iron hydroxides (p. 12), and the work in Korea on developing a new water-treatment adsorbent reported last month (A New Adsorbent for Wastewater Treatment, Chem. Eng. March 2017, p. 11).
Spotlighting World Water Day
CPI companies have joined in the observance of World Water Day to help spread the news about water scarcity issues and how to address them. The Dow Chemical Company (www.dow.com) for example, participated in an event in Tucson, Ariz. where representatives from industry, business, academia and government interacted on water-related topics. The event included a tour of the University of Arizona's Water and Energy Sustainable Technology Center, as well as the unveiling of the World Water Day paint scheme for the No. 3 Dow Chevrolet car, which competed in the Camping World 500 at the Phoenix International Raceway on March 19.
Current world news has many concerned about the future of environmental endeavors. The need to share information about the importance of better wastewater treatment is perhaps greater that it has been, making a designated day all the more important. ■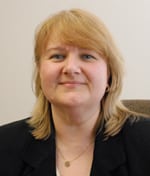 Dorothy Lozowski, Editorial Director