Airborne respiratory hazards are a very real threat in the chemical process industries (CPI). Existing in a variety of forms including gases, vapors, dusts, mists, fumes, smoke, sprays and fog, such hazards can cause illnesses including cancer and lung impairment, or even death. Examples of respiratory hazards include combustion byproducts; toxic fumes or dust created by metal melting; ozone and nitrogen oxides from processes involving an electric discharge in air; and dust particles released by grinding (notably dry grinding such as blasting) and crushing applications, and the transport, sieving, mixing or screening of any dry material.
The specific hazardous gases present in a workplace will, of course, vary according to the processes of the facility, but commonly include chlorine, chlorine dioxide, ammonia, nitrogen dioxide, nitric oxide and volatile organic compounds (VOCs). Some hazardous gases, such as carbon monoxide, act rapidly and can cause unconsciousness or death within minutes, while other toxic gases can take years to produce noticeable harm.
Where toxic substances are present in the workplace and engineering controls (such as enclosing or confining the contaminant-producing operation, exhausting the contaminant, or substituting with less toxic materials) are inadequate to reduce or eliminate them, it is time to turn to respirators (Figure 1).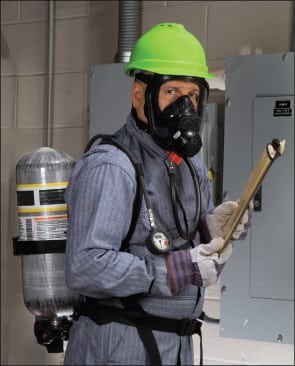 What is a respirator?
A respirator is a protective device that covers the nose and mouth or the entire face or head to guard the wearer against hazardous atmospheres. Respirators may be either tight-fitting or loose-fitting. There are two types of tight-fitting respirators: "half masks" cover the wearer's mouth and nose, while "full facepieces" cover from the hairline to below the chin (Figure 2). Loose-fitting respirators include hoods and helmets that cover the head completely.
The OSHA standard
The appropriate use of respiratory protection is not only important for worker health and safety — in the U.S., it is the law. The U.S. Occupational Health and Safety Administration (OSHA) is the main federal agency charged with the enforcement of safety and health legislation in the U.S. Much of this legislation is written in the form of standards. OSHA standards are rules designed to provide a work environment free from known dangers or hazards. They require the use of certain safe practices and equipment, and assign employers the responsibility of monitoring hazards and keeping records of workplace injuries and illnesses. Compliance with OSHA's standards is mandatory and is stringently enforced.
In 2011, "Respiratory Protection, General Industry (29 CFR 1910.134)" was OSHA's fourth most frequently cited standard violation. Standard 29 CFR 1910.134 covers the respiratory protection division of the personal protective-equipment category. Essentially, it details the requirements for compliance in workplaces where respiratory hazards are a potential threat (Figure 3). The aforementioned statistic reveals that too many workers are not employing appropriate protection from respiratory hazards on the job. According to OSHA, an estimated 5 million workers are required to wear respirators in 1.3 million workplaces throughout the U.S.
The role of ANSI
In addition to OSHA, another driving force in the regulatory arena is the American National Standards Institute (ANSI). As a voice of the U.S. standards and conformity assessment system, ANSI's mission is to enhance both the global competitiveness of U.S. business and quality of life by promoting and facilitating voluntary consensus standards and conformity assessment systems, and safeguarding their integrity, in an effort to protect workers.
ANSI thus provides a neutral forum for the development of policies on standards issues and serves as a watchdog for standards development and conformity assessment programs and processes [ 2]. ANSI/AIHA Z88.2 "Standard Practices for Respiratory Protection" is a voluntary consensus standard drafted by the ANSI Z88 Committee on Respiratory Protection [ 3]. This standard is significant, as it addresses the issue of assigned protection factors (APFs). APFs are the main factor used by many employers when they select respirators for worker protection from airborne hazards. The ANSI standard recommends protective factors that are very similar to those of OSHA, except for a more conservative APF for filtering facepieces (disposable respirators). The standard also addresses other key issues regarding the proper use of respiratory protection in the workplace, including the following:
• Respiratory protection program requirements
• Standard operating procedures for programs
• Respirator selection, limitation and use
• Training
• Fit testing
• Maintenance, inspection, storage and disposal
• Breathing air and oxygen-deficient atmospheres
• Recordkeeping
Establishing a program
The fundamental goal of any respiratory protection program is to control occupational diseases and injuries caused by breathing air contaminated with harmful dusts, fogs, fumes, mists, gases, smoke, sprays and vapors. The defense against these contaminants is simple: keep them out of the worker's breathing air.
Engineering and administrative controls, which have the potential to completely eliminate the hazard, must always be implemented first. These include actions such as enclosing or confining the contaminant-producing operation, exhausting the contaminant, or substituting the contaminant with a less-toxic material. Work practices such as limiting employee exposure should also be considered. If these controls do not eliminate the hazards, then employers must provide appropriate respiratory protection for every employee who might be exposed to them.
Whenever OSHA standards or employers require respirator use, there must be a complete respiratory protection program in place. Employers must have written operating procedures to ensure that employees use the respirators safely and properly. Users must be familiar with these procedures as well as the types of respirators available and their limitations.
A qualified program administrator. First of all, a qualified program administrator must be responsible for the program. This person must know enough about respirators to supervise the program properly. Larger plants or companies with industrial-hygiene, in-house medical, safety-engineering or fire-prevention departments should administer the program in liaison with the program administrator. In smaller plants that do not have specialists, an upper-level superintendent, foreman or qualified person must serve as the program administrator.
Employee training. Any respirator program should stress thorough training of all respirator users. Employees must be aware that a respirator does not eliminate the hazard. If the respirator fails, the user will be overexposed to dangerous substances. To reduce the possibility of failure, the respirator must fit properly and be maintained in a clean and serviceable condition. Employers and employees must understand the respirator's purpose and limitations. Users must not alter or remove the respirator even for a short time, regardless of its potential discomfort.
Regular evaluation. Employers must evaluate the effectiveness of their company's respirator program regularly and modify the written operating procedure as necessary to reflect the evaluation results. Workplace conditions that affect respiratory hazards and respirator use may change over time. This would include new work processes or techniques, the use of new or different materials or chemicals, changes in the amount of a respiratory hazard present in the workplace and changes in the types of respirators being used. The written program must therefore be updated as necessary to reflect and address these changes. Employees should always notify their employer if a change in the workplace occurs that conflicts with, or may not be covered by, the existing respirator training or established workplace policies or procedures.
Choosing the correct respirator
Selecting the right equipment is a three-step process:
1. Define the hazard and determine its extent.
2. Evaluate user factors that affect respirator performance and reliability.
3. Select an appropriate respirator that is certified by the National Institute for Occupational Safety and Health (NIOSH) [ 1]. Note that equipment must always be used in accordance with the specifications accompanying the NIOSH certification.
When selecting respirators, employers must consider the chemical and physical properties of the contaminant, as well as the toxicity and concentration of the hazardous material and the amount of oxygen present. Other selection factors are the nature and extent of the hazard, employee work rate, the size of the area to be covered, worker mobility, work requirements and conditions, and the limitations and characteristics of the available respirators.
Air-purifying respirators use filters or sorbents to remove harmful substances from the air. They range from simple disposable masks to sophisticated devices. They do not supply oxygen and must not be used in oxygen-deficient atmospheres or in other atmospheres that are immediately dangerous to life or health (IDLH).
Atmosphere-supplying respirators are designed to provide breathable air from a clean air source other than the surrounding contaminated work atmosphere. They include self-contained breathing apparatus (SCBA) units (Figure 4a) and supplied-air respirators (SARs; Figure 4b).
The time needed to perform a given task, including the time necessary to enter and leave a contaminated area, is an important factor in determining the type of respiratory protection needed. For example, SCBAs, gas masks, or air-purifying chemical-cartridge respirators provide respiratory protection for relatively short periods. On the other hand, an atmosphere-supplying respirator that supplies breathable air from an air compressor through an air line can provide protection for extended periods.
If the total concentration of airborne particulate matter is low, particulate-filter air-purifying respirators can provide protection for long periods without the need to replace the filter. Where there are higher concentrations of contaminants, however, an atmosphere-supplying respirator such as the positive-pressure SAR offers better protection for a longer time.
Since they use an independent air source, SARs eliminate the need for concern about filter breakthrough times, change schedules, or the use of end-of-service-life indicators (ESLIs) for airborne toxic materials — factors that must be considered when using air-purifying respirators.
Respirators must not impair the worker's ability to see, hear, communicate or move as necessary to perform the job safely. For example, atmosphere-supplying respirators may restrict movement and present other potential hazards. SARs, with their trailing hoses, can limit the area the wearer can cover and may present a hazard if the hose comes into contact with machinery. Similarly, a SCBA that includes a back-mounted, compressed-air cylinder is both large and heavy. This may restrict climbing and movement in tight places, and the added weight of the air cylinder presents an additional burden to the wearer.
Another factor to consider when using respirators is the air-supply rate. The wearer's work rate determines the volume of air breathed per minute. The volume of air supplied to meet breathing requirements is very significant when using atmosphere-supplying respirators, such as self-contained and air-line respirators that use cylinders, because this volume determines their operating lives.
Peak airflow rate is also important in the use of a constant-flow SAR. The air-supply rate should always be greater than the maximum amount of air being inhaled in order to maintain positive pressure in the respiratory enclosure.
The increased breathing resistance of air-purifying respirators under conditions of heavy work may cause the user breathing difficulty, especially in hot, humid conditions. To avoid placing additional stress on the wearer, use the lightest respirator possible that presents the least breathing resistance.
SCBAs and some chemical canister respirators provide a warning of remaining service time. This may be a pressure gage or timer with an audible alarm for SCBAs or a color ESLI on the cartridge or canister. The user should understand the operation and limitations of each type of warning device. For the many gas masks and chemical-cartridge respirators without ESLI devices, the employer must establish and enforce a cartridge or canister change schedule. Employees should begin each work shift with new canisters and cartridges.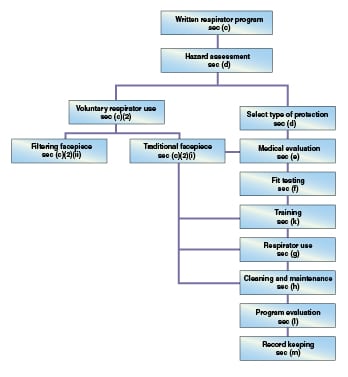 Ensuring proper fit
Different types of respirators, and even different brands of the same type of respirator, have different fit characteristics. No one respirator will fit everyone. Some employees may be unable to get an adequate fit with certain respirator models of a particular type of respirator. This is why employers must provide a sufficient number of respirator models and sizes to ensure that every employee can select an acceptable respirator that fits properly.
Corrective eyeglasses worn by employees can also present a problem when fitting respirators. Special mountings are available to hold corrective lenses inside full facepieces. A qualified individual must fit the facepiece and lenses to provide good vision, comfort and proper sealing.
Tight-fitting respirators cannot provide proper protection without a tight seal between the facepiece and the wearer's face. Consequently, beards and other facial hair, the absence of normally worn dentures, facial deformities, jewelry or head gear that projects under the facepiece seal can also seriously affect the fit of a facepiece. To ensure proper respiratory protection, check the facepiece each time you wear the respirator. You can do this by performing either a positive-pressure or negative-pressure user-seal check. Detailed instructions for performing these checks are in Appendix B-1 of OSHA 29 CFR 1910.134.
Qualitative versus quantitative fit testing. Fit testing is required for tight-fitting facepiece respirators. You can test the effectiveness of the fit of the facepiece two ways: qualitatively and quantitatively.
Qualitative fit testing involves the introduction of a harmless, but strong, smell or irritating substance into the breathing zone around the respirator being worn. If no odor or irritation is detected by the wearer, then this indicates a proper fit.
Quantitative fit testing offers more accurate, detailed information on respirator fit. While the wearer performs exercises that could induce facepiece leakage, a fit-testing instrument numerically measures the amount of leakage into the respirator. This testing can be done either by generating a test aerosol as a test atmosphere, using ambient aerosol as a test agent, or using controlled negative pressure to measure any leakage. Detailed instructions for performing both qualitative and quantitative fit testing are contained in Appendix A of OSHA 29 CFR 1910.134.
Proper inspection and care
It is important to inspect all respirators for wear and tear before and after each use, giving special attention to rubber or plastic parts that can deteriorate or lose pliability. All parts including the facepiece, headband, valves, connecting tube, fittings and cartridges, canisters or filters must be in good condition. A respirator inspection must include check- ing the tightness of the connections.
SCBAs should be inspected at least monthly, and air and oxygen cylinders should be fully charged according to the manufacturer's instructions. This inspection should include a check of regulator and warning devices to ensure proper functioning. Employers must keep a record of inspection dates and results.
Chemical cartridges and gas mask canisters should be replaced as necessary to provide complete protection, following the manufacturer's recommendations. Additionally, mechanical filters should be replaced as necessary to avoid high breathing resistance.
Only an experienced person is permitted to make repairs, using parts specifically designed for the respirator. This person must consult the manufacturer's instructions for any repair, and no attempt should be made to repair or replace components or make adjustments or repairs beyond the manufacturer's recommendations.
Employers must ensure that respirators are cleaned and disinfected as often as necessary to keep them sanitary. In addition, the employer must have emergency-use respirators cleaned and disinfected immediately after each use.
Respirators should be washed in a detergent solution and then disinfected by immersing them in a sanitizing solution. Cleaner-sanitizers that effectively clean the respirator and contain a bactericidal agent are commercially available. Strong cleaning and sanitizing agents and many solvents can damage rubber or plastic respirator parts. Use these materials with caution or after consultation with the respirator manufacturer.
Store respirators in a manner that provides protection against dust, sunlight, heat, extreme cold, excessive moisture and damaging chemicals. When packed or stored, each respirator should be positioned to retain its natural configuration. Facepieces and exhalation valves should rest in a normal position to prevent the rubber or plastic from deforming.
Manufacturers' tools
There are three especially valuable tools that can assist in the development, administration and maintenance of a workplace respiratory protection program:
• Respirator selection guide
• Cartridge life expectancy calculator
• Manufacturer training programs
Many respirator manufacturers' websites contain these tools. OSHA's website contains a respirator selection guide.
Respirator selection guide.A respirator selection guide is designed to help users identify the proper respirator solution to meet their individual needs. Choices include everything from SCBAs to half- and quarter-type facemasks. In addition to selecting the proper respirator, a respirator selection guide also helps users choose the correct filtering element if their exposure situation allows for the use of an air-purifying respirator. The following steps should be taken to use a respirator selection guide.
Step 1: Assess your environmental conditions to determine the hazard(s). To determine an atmosphere's oxygen content or concentration level of gaseous contaminants, proper air sampling must be conducted. The results of this sampling will determine what level of protection is required. Generally, respirator and cartridge selection is based on three factors:
1. The results of the atmospheric monitoring or sampling program
2. The accepted American Conference of Industrial Hygienists (ACGIH), OSHA or NIOSH exposure limits for the substance(s) present
3. The maximum use concentration of a substance for which a respirator can be used
An additional part of the hazard assessment process is determining whether the contaminant has adequate warning properties. This affects respirator selection because chemical cartridge respirators and gas masks should only be for routine use against gases and vapors with adequate warning properties, unless the cartridge is equipped with an end-of-service life indicator.
Step 2: Check chemical exposure limits. After finding out what hazards exist, compare the chemical concentration at your facility (determined by air sampling) with the chemical's exposure limits. Note that most respirator selection guides use the lowest exposure limit published by ACGIH, OSHA or NIOSH as a baseline to determine the need for respiratory protection. One exception to this rule is when an OSHA substance-specific standard exists with applicable respirator use limitations for protection against the chemical of interest. In this case, the OSHA requirement is specified.
Step 3: Select a respirator and cartridge. Now it is time to select a respirator and cartridge. During this process it is important to note that recommendations in a respirator selection guide are typically based on appropriate levels of respiratory protection. If you choose, a higher level of protection can be used by selecting a respirator with a higher maximum-use concentration or, if applicable, a higher cartridge-filter efficiency. This is advisable if the atmosphere in the work area is prone to changes, since the contaminant concentration has the potential to become higher.
Cartridge life-expectancy calculator. Let's assume that you determined that the respirator of choice should be a full-facepiece with a multi-gas cartridge. It is now time to use the cartridge life-expectancy calculator. This tool is interactive and is designed to provide guidance as to how long a specific cartridge should be used before it needs to be replaced. The determination is called "time of breakthrough" and refers to the point at which a hazardous chemical will begin to break through the cartridge or filter without being absorbed or collected by the protective barrier. OSHA requires that respirator cartridges be replaced at pre-determined intervals based on worksite-specific usage conditions [ 4].
A cartridge life-expectancy calculator is very easy to use. Simply answer a minimal number of questions by entering key environmental and usage factors. The calculator then provides a suggested maximum service time for the cartridge(s) being used in that specific environment. Although cartridge calculators may vary somewhat, they all require the same basic input:
• Chemical hazard and concentration
• Temperature
• Relative humidity
• Atmospheric pressure or altitude
• Type of respirator and cartridge
• Type of work and average breathing rate (light, moderate or heavy)
• Breakthrough concentration preference
• Safety factor
When using a cartridge life-expectancy calculator you must remember that this tool provides a guideline for your final decision on cartridge replacement. Several other factors should also be considered, such as changes in conditions during the work shift, changing climate conditions (seasonal changes), condition of the cartridge or respirator, cartridge storage conditions, accuracy in determining the ambient conditions and user training experience. Ultimately, the appropriate change-out schedule must be developed by a qualified professional.
Manufacturer training programs.The third tool is the training programs that are available from respirator manufacturers. In addition to onsite training, some respirator manufacturers offer online programs through their websites. As part of an effective training program, the user may be required to pass a test about the respirator, including how to wear and maintain it. An employee training program is required by OSHA.
Edited by Dorothy Lozowsk
References
1. A list of NIOSH-approved respirators can be found at www.cdc.gov/niosh/npptl/topics/respirators/cel/
2. About ANSI Overview, ansi.org/about_ ansi/overview/overview.aspx?menuid =1 (accessed September 18, 2012)
3. The ANSI/AIHA Z88.2 "Standard Practices for Respiratory Protection" is available on the ANSI website, www.ansi.org
4. Federal Register, p. 1272, col.1 OSHA 1910.134(d)(3)(iii)
Author

Dennis Capizzi is the product line manager for air purifying respirators at MSA Safety (1100 Cranberry Woods Dr., Cranberry Twp., PA, 16066; Phone: 724-776-8600; Email: dennis.capizzi@MSAsafety.com), where he has worked since 2007. He serves as head of the North American Air-Purifying Respirator Steering Team, and has a seat on the International Safety Equipment Assn.'s Committee for Respiratory Protective Escape Devices.